Welcome to another edition of Dragonmount's Weekly Roundup.
First of all, we have a Front Page Blogger position open! Do you have a good sense of humor?  We need a new Humor Blogger! Applications are open until September 23.
In the Artist, Writer's and Crafter's Guild, the newest monthly challenge is Awakening. Create a piece of art, a story, or a project around the topic and post it to the Guild. Or, if you are not a creative type, feel free to see what Guild members have done with this fascinating theme.
Are you an American football fan? In the General Wheel of Time Board, Jason has opened a discussion on Randland and the NFL. Which NFL players do you think are like some of your favorite characters from the Wheel of Time? Is Tim Tebow actually Logain?
If you are not a sports fan, the General board does have a fascinating discussion on the Transformation of Emond's Field. What do you think of the changes made to Rand, Mat, and Perrin's homeland? Does the transformation take place too quickly?
Do you have the fitness bug? The Band of the Red Hand has a new discussion of self-motivation and workouts. How do you get motivated to work out, or do you find yourself wanting to exercise at the most inopportune times?
Are you an animal lover? The White Tower and Warders Social Group is now hosting the Green Ajah's Animal Appreciation Week! While the link provided will send you to the introduction thread, there are multiple threads and events going on in the Tar Valon board, so keep an eye out for more fascinating animal-related threads.
Don't forget that you can get updated news from Dragonmount on the Dragonmount Facebook Page and on Dragonmount's Twitter feed! These two places are constantly updated with new eBook store information. Here is just a sample of some of the cool stuff on our Twitter Account: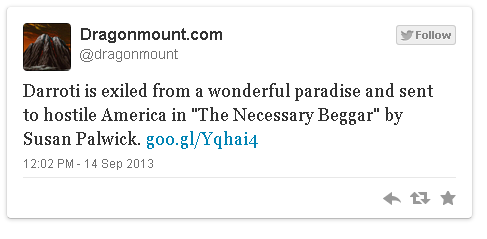 That's it for this edition of Weekly Roundup! Don't forget to wish Dragonmount a Happy Birthday on September 19!