The 4th Age podcast
The 4th Age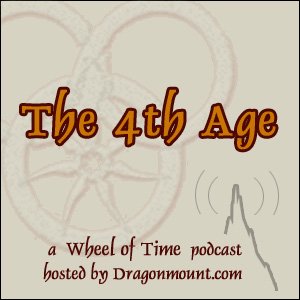 History of the Podcast
The original 4th Age podcast ran from 2006-2013, producing 112 episodes. Virginia, Andrew, Carrie, Jayson, Ben, Morgan, Jessie, Marc, and Spencer all contributed over those years, generally choosing a specific topic for each episode, but also covering individual chapters or sections of the later
Wheel of Time
books. They also welcomed the occasional special guest. You can find all of the episodes from that era on our
Legacy Episodes page
. There are a few missing episode numbers but that's because there were two episodes near the end of the series that were never completed (108 and 109). Also, early in the series, the team created an episode 12A and 12B. (We were new to this whole podcasting thing back then.) Although these legacy episodes are now outdated, the discussions are timeless and we hope you'll enjoy the wide variety of topics they discussed. Please note that there are book spoilers throughout every epsisode. These were created well before
The Wheel of Time
TV show
, so there's no discussion of that project.

The Podcast Reborn
The 4th Age is returning soon with an all-new set of hosts who will focus on the upcoming
Wheel of Time
TV show on Amazon. We'll also be parterning with an established podcast network. Many of those upcoming episodes will be recorded live, and if you are a
Patreon backer
for our website, you'll get access to additional content. Stay tuned for more!