It wouldn't be JordanCon without a new, Wheel of Time related costume.  The convention starts tomorrow, so in preparation, I made myself an Asha'man coat.  I've been wanting one forever—some of you might remember when I posted this picture of what I envisioned a female Asha'man coat to be like. 
JordanCon 10, plus Dragonmount's 20-year anniversary, seemed like the best time to make my dream a reality.
First, I started with this pattern, selection D. 
The military style seemed to fit my vision, and I loved that it had a high collar.
The pattern is classified as "easy," but it was the trickiest pattern I've sewn to date.  My Aes Sedai and sul'dam dresses were much easier.
Either way, I followed the directions for the jacket, but I skipped the lining. 
I used black poplin—an inexpensive and forgiving fabric—for the project, with a few snippets of a white satin for the pockets, and about a yard of interfacing.  I probably spent less than $15 on the fabrics.  A great deal for such an ambition outfit.
The most impressive thing is how much the coat flairs out!  It's got a ton of fabric in the sides giving it an extra fluff.
I gave myself the time frame of a week to complete this.  I finished it in a week.  I took my time, allowing breaks when the sewing grew monotonous.  In all, I'd estimate the number of hours as fifteen, total.  Of course, I still consider myself an apprentice seamstress, so a more skilled worker could probably finish it in much less!
A modification I added to this was using Velcro to fasten the front close instead of installing real buttons and button holes.  I sewed the buttons to the front flap to give the illusion of actual button holes.  This was to prevent puckering of the fabric between the buttons.
My button choice was calculated, though I discovered later that there were yin-yang buttons on Etsy.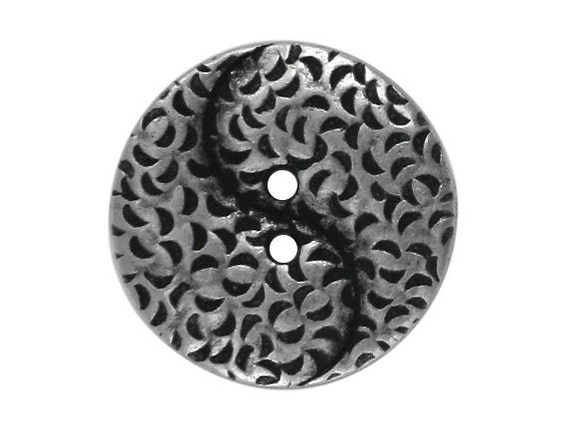 I may change out my buttons at some point in the future.  But for now, I selected these. 
I bought them from SAS Fabrics, a warehouse chain in the Phoenix area.  These have an industrial feel to them I really love!
For the completed outfit, I paired my jacket with black nylons and black boots.
I must say, I love it!
To celebrate JordanCon, I also indulged and bought myself the Badali Dedicated/Asha'man pin set!  It used up my birthday present for the year, but it's worth it.  (Picture with those forthcoming after my Black Tower pinning ceremony!)
Be sure to follow the JordanCon Facebook page to keep up to date with the festivities!
Edited by Mashiara Sedai