Hello! The Wheel turns, and September is coming to a close.  School is back. Halloween is just around the corner, and stores are already stocking up for the Holiday season.  Time for another edition of Weekly Roundup!
This week in the general Wheel of Time Discussion board is a discussion of Siuan's Warder. How was Alric killed without Siuan noticing? Does the official explanation of Siuan being distracted fit?
In the Band of the Red Hand, two exciting discussions started this week. The first was about a film that is a personal favorite, the Tenth Kingdom. This film, a miniseries from 2000, is about a magical world where our fairy tales are real. The second exciting tale came from Starrik, who tells the story of his Travels in Australia.
This week, the Black Tower discusses Stormtroopers vs Red Shirts. Would the crack-shot precision of Star Wars Storm Troopers win verses the keen survival instincts of Star Trek Red Shirts? Weigh in on the discussion!
In the Ogier, a discussion about quality Sung wood creations.  Here you can see some amazing Ogier-crafted products.
And now from the Dragonmount Facebook Feed: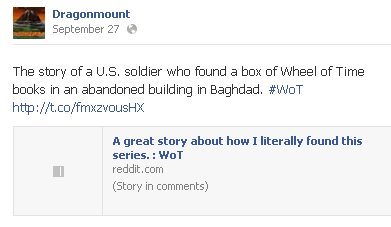 (the link to the article mentioned in the Facebook feed is here!)
Don't forget: by following Dragonmount on Facebook or @Dragonmount you can get up-to-date information. 
That's it for this week's Weekly Roundup! I hope you all had a safe and happy September, and don't forget as October begins: sign in at your Social Groups!