Dragonmont's birthday, the anniversary of Robert Jordan's passing, and Talk Like a Pirate Day. This has been an active and exciting week, with much to report for this week's Weekly Roundup!
First, allow me to take a moment to congratulate Dragonmount for its 15th birthday. For many of us, Dragonmount has become much more than a fan site. It is an internet home. Thank you to both Jason and Jennifer for keeping it going all these years.
To thank Jason and Jennifer, some of the Social Groups celebrated in unique and fascinating ways. Shayol Ghul sent Dragonmount a menacing birthday card. The White Tower and Warders put the Jennifer, who was the Social group's First Amyrlin on trial. And Jennifer opened a discussion about it on the General Board.
The Social Group formerly known as the Artist, Crafters, and Writers Guild recently underwent a dramatic change. As of this week, they are now Dragonmount's own ACW Tuathan'an camp. The Guilds are each renamed to match the Tinker theme: there is the Artist's Wagon, the Crafter's Wagon, and the Writer's Wagon.
The Aiel are feeding us this week. They are hosting a Culture Fair: International Food Market.  There is a thread for just about every style of international cuisine. Stop by and talk about food!
Do you have a workout goal? Are you looking for a Social Group to help you track your goal? The Band of the Red Hand is now tracking fitness goals.
Finally, a snapshot of the Dragonmount Facebook page: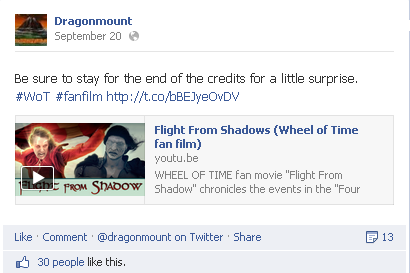 Remember, if you Like Dragonmount on Facebook or follow Dragonmount on Twitter, you can get up-to-date information about Dragonmount and other Wheel of Time information. 
That's it for this week! I hope you all have a good, safe, and happy week ahead, and see you next time!