Ah! The Wheel turns, and another week of activity has gone by. This has been a particularly active week for Dragonmount, so I do apologize for the length of this week's Weekly Roundup. There is just so much going on this week!
The Debates and Discussion forum has a few interesting topics up for discussion at the moment: the America Shutdown, European Politics, and Propaganda. If you want to talk about the situations, learn something new, or just want to get into a good debate over any of the topics, head over to this forum to share your thoughts.
Walking Dead fans! The Entertainment, TV Show, & Sports Discussion forum has opened a discussion on Season Four! Join this discussion to compare notes, predict character deaths and plot twists, and to find other, like-minded Zombie fans on Dragonmount!
The amazing re-imagined Tuathan'an forum has announced its ranking system, the Way of the Leaf! If you are already a member of the former ACW Guild or looking to become a member, check the thread out to find information about this exciting process.
Meanwhile, in the Aiel, there are still spaces available for their Halloween Mafia game! The Aiel usually don't have mafia games, so those of you looking for a new mafia game, or wanting to try it out for the first time, can play in this exciting holiday game.
The Kin are celebrating Halloween by sharing creepy images! (Warning… there might be spiders!)
Do you have tattoos? Share them in the Shayol Ghul Tatto Expo! This is your chance to talk about your ink, the artist, and plans for future tattoos.
The White Tower and Warders group has been the host of the Red Ajah Autumn Festival this week. The festival, music themed, has a discussion on folk music, dancing music, a signature contest, corrupt a song, a discussion of favorite music or bands, and a "let's write a song" thread. What an amazing event!
In the Role-playing forum, a Warder Initiate has asked for help after being wounded by brigands. Will an Accepted or a Sister be able to get to him in time?
Finally for the weekly Dragonmount Facebook update:
: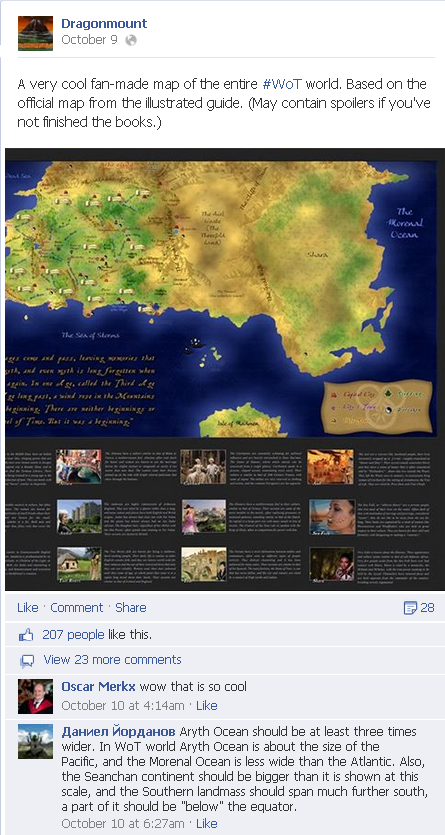 Remember, you can get up-to-date information about Wheel of Time news from Dragonmount's Facebook and Twitter feeds! 
And that wraps it up for this week's Weekly Roundup. Remember to sign in to your Social Groups!