Happy November, everyone! I can hardly believe how quickly this year has gone by! Anyway, with the new month comes time for a new Weekly Roundup!
First, in the ACW Tuathan'an Camp, the project of the month for November is Nano (Small). The monthly challenge at the Tuathan'an gives members and new members the chance to create something inspired by a theme, and this month, the theme surrounds NaNoWriMo. Follow the link to read the rules of the challenge, and be creative!
The Band of the Red Hand has two "Tune or no Tune" polls: What does the Fox Say? and "The Cup Song." Tune or No Tune polls give you the chance to watch a video of a song and vote whether the song is good--a "tune"--or bad--"no tune."
The Ogier have an open poll on The Hobbit by J.R.R. Tolkien. Have you read The Hobbit? What did you think about the book? Here is a place to discuss the novel before going to see the second Hobbit film later this month!
The Wolfkin have found a "Big Red Button."  What would you do if you found a Big Red Button that is labeled "Do Not Press?" Would you press it, or would you leave it alone?
And Finally, from Dragonmount's Facebook page: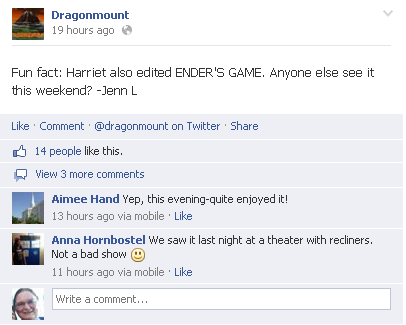 Remember, you can get constant updates on Wheel of Time related news by following Dragonmount on Facebook and Twitter!
As always, don't forget to sign in at your Social Groups and have an excellent week!