Hello Dragonmount!
The Wheel has spun, and now it's time for a new edition of Dragonmount's Weekly Roundup! March is well underway. We've survived Pi day, the Ides of March, and now it is St. Patrick's Day!
The Wolfkin monthly discussion about music and the monthly game, an acronym game, is well under way. It's not too late to join the discussion or play with the Wolfkin in their home!
Aiel monthly activities include a Movies by the Alphabet game and a discussion of Art and inspiration.
Are you planning on going to Jordancon 2014? Talk about your travel plans!
Roleplayers: Are you interested in joining the Children of the Light? The new guidelines are available. Even if you don't have an interest in the Children, but are generally interested in our Roleplaying boards, check the thread out, since it has some valuable information on getting started.
And don't forget, Hugo nominations are due on March 31st, so remember to submit your top picks.  Check out this article if you need inspiration or suggestions.
Finally, an up date from Dragomnount's Twitter account:
Remember, you can get daily updates about Wheel of Time, and other related subjects from our Twitter and Facebook pages.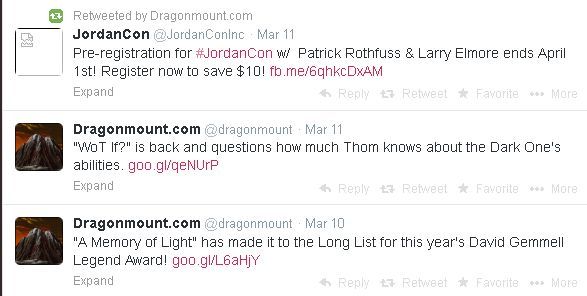 That wraps up this week's Weekly Roundup. See you next week!