Hello again! I'm back after a long absence to once again start posting the Weekly Roundup. I've been busy moving from Houston to Phoenix, and now that I'm here, well… I'm ready to rock and roll!  And now on to what's going on around Dragonmount this week:
First, in the Movies & Games board of the Entertainment Forum is a discussion on Dragon Age: Inquisition. If you are a fan of the series and are looking forward to this exciting new game, check this thread out. Or pop on over to the nearby thread and discuss this year's E3!
In Shayol Ghul, this month is all about board games: Join in on a board game discussion, play board game hangman, or guess the board game.
In the White Tower and Warders, the Gray Ajah is hosting an amazing Picnic Midsummer festival! There are games, discussions, recipes, many things all about the summer picnic!
The Gray Ajah may be picnicking, but the Wolfkin are having a barbeque! Do you like to cook outdoors over an open flame? Know the difference between barbeque and grilling? Check out what the Wolfkin have to say on the subject!
Dragomount's yearly Wheel of Time Cage Match is about to start!  The battles will begin on June 29th, but in the mean time, read up on the competitors, play the Prediction Competition game, or get a special forum signature to show off your favorite character!
And now for an update from Dragonmount's Facebook Page: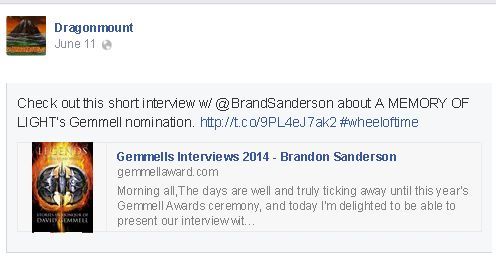 Remember, to continue getting excellent daily information about the Wheel of Time, Dragonmount, and other related topics from this awesome page, you must like, share, and comment on the posts by Dragonmount on Facebook, or it will not show up in your feed. You can also get information from Dragonmount's Twitter profile.
One final thing before I leave you this week about the Hugo Awards:  You still have time to nominate and vote!
That wraps it up for this week! I hope you've had an excellent one and will see you next week for a new Weekly Roundup!