Hello Dragonmount! The Wheel has spun yet again, and it's time for another fantastic Weeekly Roundup, where I tell you all the cool things going on around our beloved website.
To start off this week, there is more information available about the Wheel of Time's Hugo Nomination. This post tells you about how you can vote for the Hugos and acquire copies of other works nominated (even if you are not able to attend WorldCon this year.) If you do vote, please remember don't just "fanboy" vote for The Wheel of Time, take the chance to get to know the other nominated works.
Want a free e-Book? Tor Books is giving away a copy of R.A. Salvatore's DemonWars: First Heroes to a lucky Dragonmount member. This book covers the novels The Highwayman (2004) and The Ancient (2008). To be eligible to win, read my review of the book and post a reply in the comments. You can enter until April 30.
Next up, the Entertainment Discussion Boards. These two boards have many exciting threads going on discussing current television shows, athletic events, video games, and movies. Examples of current threads include: Divergent (Movie), Pokemon XY (Game), the NBA Playoffs  and Arrow (television series).  For those of us who watch Game of Thrones, there are even two separate threads to discuss this show: the SPOILER thread, where you can talk about the books to your heart's content and the SPOILER-FREE thread, where discussion is limited to only currently-aired episodes.
Take a few minutes and check these boards out!
The Ogier are still hosting Springtime Hangman and now have an open discussion: Would you rather be Hot or Cold? Even if you aren't a member of the Ogier, you can still benefit from these two amazing posts.
Shayol Ghul Members: You still have time to vote in the Ghoulies! These annual awards, handed out by the most twisted Social Group in all of Dragonmount, celebrate categories like "Member with the most swagger" and "Most Likely to take over the world and/or Dragonmount." Voting closes May 1, so get your vote in soon!
And to close up the Dragonmount portion of the Roundup, I'd like to turn your attention to the White Tower, where the thread "How Feminism Hurts Men" is still active and going. This thread was the winner of Dragonmount's Empy Award for the "Most Thought Provoking Thread."
Finally, an update from Dragonmount's Facebook page: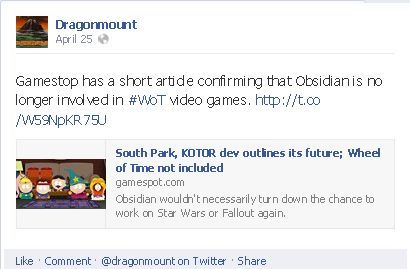 Remember, you can get daily updates on the Wheel of Time and related works by liking, commenting, following, and sharing Dragonmount's Facebook page and Twitter feed.
That wraps it up for this week!