Aleksandra (Ola) Hill is a Polish-Canadian writer and the founder and editor-in-chief of khōréō, a magazine of speculative fiction by immigrant and diaspora writers. She won the grand prize in the 2019 Writer's Digest Popular Fiction Awards and is currently pursuing an MFA in writing at The New School. You can find her on Twitter at @_aleksandrahill.
#
TL; DR: A Marvellous Light is a delightful Edwardian fantasy and the first in a series. Centered around a murder and a mysterious curse and heavily interspersed with both humour and steamy scenes, it's perfect for fans of Sorcerer to the Crown, Magic for Liars, and Silver in the Wood.  
#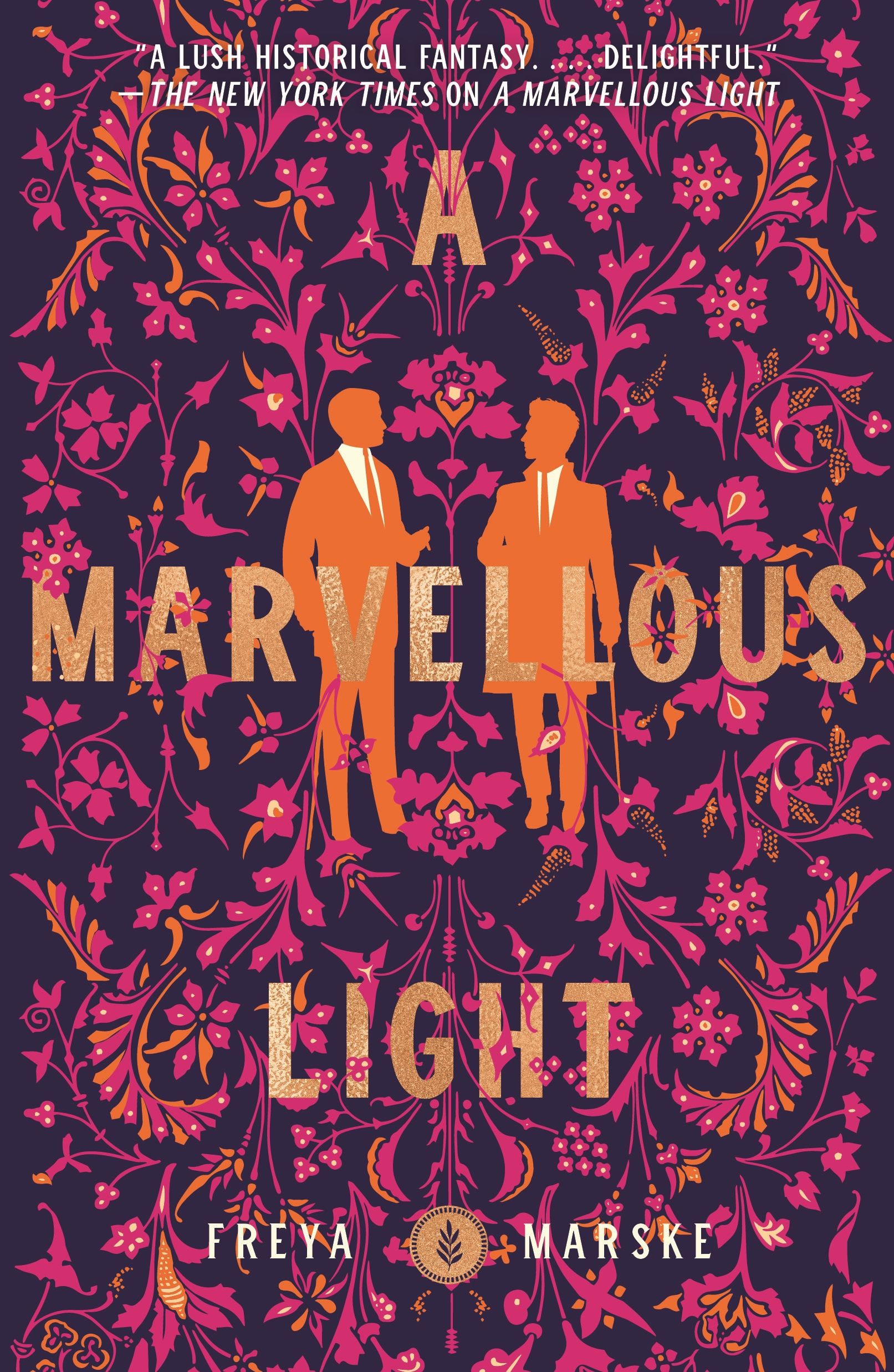 A Marvellous Light by Freya Marske is set in Edwardian England where magic exists, but is a secret kept by those who can use it. Robin Blyth—decidedly not a magician—is thrust into what seems to be a dead-end government job as a minor act of social revenge, only to learn that he has become a liaison between the magical and non-magical worlds since his predecessor disappeared two weeks before. It is there he meets Edwin Courcey, a gentleman from a long magical line who has very little power for himself. When Robin is cursed by a man wearing a mask made of shadows, Edwin takes it upon himself to lift it before it's too late. 
There are dozens of books set in some historical version of England, so starting this story can feel like donning a particularly cozy sweater that you've owned for many years. While there's a certain delight in familiar tropes, it can be hard to make these kinds of stories feel fresh. What really sold me on this particular one was the way magic is described in the books. Using it relies on "cradling" one's spells using one's hands. Children learn to do this using string, much like one might play a game like cat's cradle; most adults dispense with the aid. The imagery of this made me think very much of a "modern" version of channeling that one sees in The Wheel of Time. The system itself is relatively soft, with many open questions and unknowns, but there's a decided academic bent to it: I would love, for example, to see an illustration of the system of notation used to communicate these spells.
I would also kill to be able to see the murderous hedge maze in the flesh. But not, you know, be murdered by it. That's no fun.
The magic is immersive partially because of how mundane it is. That isn't to say that we only see individuals stirring their coffee with a levitating spoon in the book (though that does happen); rather, throughout the course of the novel, we get to see the inventiveness of magicians in all aspects of life, whether it's home security or afternoon games for rich young adults with nothing better to do. There's a constant feeling of play within the magic that makes it feel a million times more desirable to me.
Interestingly, contracts and consent also play a large role in the magic system. To start, humans have been able to do magic due to a contract that's been passed down through generations (which brings up a fascinating question around the distribution of magic: why do some children receive more magic than others, and some none at all?). But magic itself also has contractual constructs within it. For example, having a pen write by itself requires imbuing the pen with the desire to be helpful and setting out the terms and parameters of the spell; every spell seems to be a negotiation of sorts. A family setting up a home can also make a blood bond with the land using similar terms, asking it to accept them and receiving certain protections in return. Given Britain's history of colonialism, this makes for an interesting perspective on what it means to have and own land as a magician and would certainly make for interesting inheritance-related shenanigans (could I run over to a friend's house and claim it for my own if the land liked me better?). 
This constant focus on contracts and agreement also makes it feel utterly natural that Edwin is a particularly thoughtful romantic lead when it comes to consent. I don't read a lot of romance, so I don't have a strong understanding how writers have treated consent in the past, but I did appreciate how Edwin always checks for enthusiastic consent in a way that never intrudes on the scene or makes it any less steamy (I'd argue that the anticipation only adds to the effect, actually). 
On the note of romance: this book is heavy on romance, to an extent that I didn't quite expect from the marketing, and there are scenes that made me double check that no one was reading over my shoulder on the subway. It certainly wasn't a drawback for me—I loved every moment of Edwin and Robin's growing relationship almost (but certainly not quite) as much as I loved Nynaeve and Lan's storyline in Wheel of Time. A nerd and a himbo, an introvert and an extrovert, a magician and a non-magician—they balance each other out marvelously well on the page. The tenderness with which they treat each other's differences is also particularly well rendered. One line that particularly struck me:
"You are the most fascinating thing in this beautiful house. I'd like to introduce my fists to whoever taught you to stop talking about the things that interest you."
I don't think I'm the only one on this site who grew up loving something (like, say, a book series that's just now becoming a TV show) and being shut down from talking about it, so hearing someone say this—even if it was a fictional character, even if it wasn't to me—was a balm. With all this said, however: the focus of the book lies equally on them as it does the mystery of the murder and the curse, so if you're looking for just the latter with none of the former, this might not be the right book for you. 
In sum, I read this book in two sittings and wish I had the luxury to do it in one (it would've been if the past few weeks hadn't been a hellish chorus of responsibilities all coming to a head). The combination of mystery, magic, and romance was utterly enthralling and perfect for the exhaustion brought on by the end of the year/everlasting pandemic. I recommend this book heartily to anyone who enjoys historical fantasy or magical mysteries, or who is looking for a steamy queer romance. It combines the humour of Sorcerer to the Crown with the academic overtones of Magic for Liars and combination of romance and magic of Silver in the Wood.  
A Marvellous Light is available in the Dragonmount eBook store. Find it here!